Montgomery Planning and Montgomery Parks Presented Fall 2017 Semiannual Report to the Montgomery County Council on October 3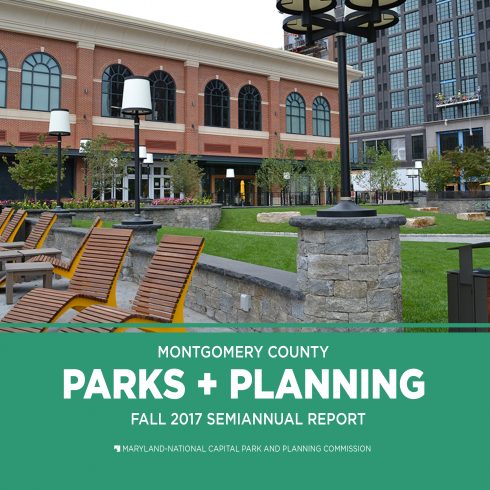 Report highlights plans and projects completed over past six months, emphasizing progress of visions being realized
SILVER SPRING, MD – Montgomery Parks and the Montgomery Planning Department, part of the Maryland-National Capital Park and Planning Commission, presented their Fall 2017 Semiannual Report to the Montgomery County Council on Tuesday, October 3, 2017. The report, available online, showcases key projects, park activities and plans from the past six months, and work that will be completed over the next six months and beyond.
View the full report.
Planning Board Chair Casey Anderson introduced the progress report by emphasizing how planning visions have become reality, including successful efforts to conserve trees and forest, manage storm water and create new bikeways and county parks.
"We set out to achieve ambitious goals," noted Anderson. "With careful planning and policies, we have been able to save resources, establish active parks and expand our transportation network with safer places for biking and walking. This success will continue in the future as we build on our past efforts to be economically competitive."
Planning Director Gwen Wright reinforced this message, pointing to the newly proposed Marriott headquarters in Bethesda, Purple Line stations, phase two of Pike and Rose, and the third phase of the United Therapeutics campus as the latest manifestations of planning goals being realized. She explained the three themes of the semiannual report – New Suburbanism, Engaging Communities and Strengthening Economic Competitiveness – as key to managing county growth.
Wright highlighted the work undertaken by the Planning Department's Research and Special Projects Division, including studies devoted to rental housing and retail and employment trends, as important to future planning efforts. She noted the Master Plan Reality Check, a study of outcomes from three past plans, as key to understanding how plan goals are realized or not.
"Our approach to planning is based on research and data," said Planning Director Gwen Wright. "Taking a closer look at past plans, housing, retail and jobs can show us how to envision smarter growth more effectively."
In explaining recent plans and programs, Director of Montgomery Parks Mike Riley pointed to how the vision of parks in every neighborhood can be attained through careful planning.
"Our new Energized Public Spaces Functional Master Plan, recently approved by the Planning Board, is a blueprint for vibrant parks in dense areas where green spaces are thought to be impossible to achieve," said Riley. "This plan demonstrates the importance of parks in the most urban neighborhoods."
Planning Department's Notable Achievements
The Fall 2017 Semiannual Report highlights the following accomplishments, achieved by the Planning Department over the past six months:
The County Council approved and adopted the Greater Lyttonsville Sector Plan in February 2017 and the Bethesda Downtown Sector Plan in July 2017.
The County Council is now reviewing plans for Rock Spring and White Flint 2.
The Veirs Mill Corridor Master Plan is underway to determine ways of better connecting neighborhoods along the busy road extending from Wheaton to Rockville.
The MARC Rail Communities Plan is now being completed and will be presented to the Planning Board in fall 2017.
Studies of rental housing and retail trends, completed in 2017, will help inform future plans.
The American Planning Association honored the Planning Department with two prestigious national awards and a local chapter award.
Department of Parks' Notable Achievements
The Fall 2017 Semiannual Report highlights the following accomplishments, achieved by the Department of Parks over the past six months:
Parks celebrated the reopening of Kemp Mill Urban Park in Silver Spring which was renovated to include a new, expanded playground, a safer, more environmentally friendly pond, new landscaping, benches, bicycle racks and public art.
Parks updated its Parks, Recreation and Open Space Plan, which puts strategies in place to ensure the right parks are in the right places.
Updated rules and regulations for county parks went into effect on July 1, 2017. They include permission to bicycle on paved and natural surface trails, prohibition of smoking and vaping, and permission to fish in locations with a state fishing license.
The Department of Parks started the Park Refresher Program to improve the park system's aging facilities at a lower cost and within a shorter time frame than typical revitalization projects.
The Department of Parks partnered with the Potomac Electric Power Company (PEPCO) to implement a pilot natural surface trail project with a five-mile section extending from Quince Orchard Road to the South Germantown Recreational Park.
The Department's Americans with Disabilities Act (ADA) Final Transition Plan is underway, with more than 1,200 barriers removed, more than 80 projects completed and an ADA access team established to provide oversight.
The County Council approved funding for a 250-car addition to a garage being built on private property that will allow the surface parking lot at the Kennedy Shriver Aquatic Center to be transformed into Wall Park in White Flint.
Park tree crews and contractors continue to remove high-risk ash trees and those damaged by the emerald ash borer that are located on parkland to improve public safety.