Planning Board Approves Updated Recreation Guidelines for Private Development on March 23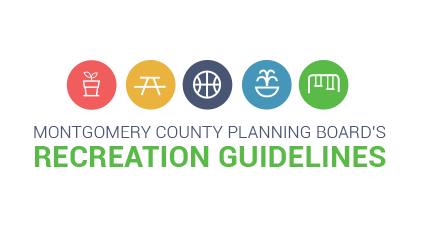 New guidelines respond to changing demographics and include web-based tool for calculating recreation requirements for new development
Silver Spring, MD – The Montgomery County Planning Department, part of the Maryland-National Capital Park and Planning Commission, secured the Planning Board's approval of new Recreation Guidelines on Thursday, March 23, 2017. The new standards, which update the 1992 Recreation Guidelines, were completed in response to the county's changing demographics and increasingly dense, urban infill and high-rise development.
The new guidelines include a much broader list of acceptable recreation facilities, such as fitness rooms, roof decks and pocket parks, and allow for custom-designed facilities. They promote greater connectivity to existing recreational facilities as part of the new standards that developers will follow when building private residential projects.
View the 2017 Recreation Guidelines on the Planning Department web site.
New Web-Based Tool
The new guidelines include an interactive web tool so both developers and the public can better understand the different options available to meet recreation requirements for private residential development. This tool, accessible on the internet, allows developers to easily create recreation scenarios that match recreation supply and demand, as required.
The user-friendly tool offers a broad view of a proposed development site through mapping, aerial photography and applicable master plan boundaries. Comparative and contrasting scenarios may be calculated, illustrating varied recreation solutions as the result of providing differentiated selections of facilities. For more information, click on the Recreation Guidelines Interactive Tool at mcatlas.org/recreation.
About the 2017 Recreation Guidelines
Goals of the Recreation Guidelines update include:
Meeting the needs of specific age groups, including teenagers, young adults, seniors.
Ensuring sustainability of recreation facilities.
Coordinating facilities within both public and private recreational systems.
The Recreation Guidelines aim to encourage more varied recreation facilities that reflect top quality design and appeal to all ages. New features of the Recreation Guidelines include:
A web tool to show how recreation requirements can be met.
Urban-friendly recreation types.
A new age group category for young adults (18-34).
Current Montgomery County demographic data.
Custom recreation facilities subject to Planning Board approval.