Meet the Planning Board
The Montgomery County Planning Board plans for livable communities by developing large and small scale plans, providing guidelines for the pattern and pace of future development and preserving historic resources throughout the 323,000-acre county. The Planning Board implements plans through its review of development applications and its subdivision decisions. The Board is also responsible for the development and management of Montgomery County's nationally recognized 32,900-acre park system. The Montgomery County Planning Board, together with the Prince George's County Planning Board, comprise The Maryland-National Capital Park and Planning Commission.
Casey Anderson
Chair
Silver Spring resident Casey Anderson, an attorney and community activist, was appointed to the Board in June 2011 and became Chair of the Montgomery County Planning Board in August 2014. Previously, Anderson served on the boards of the Washington Area Bicyclist Association, the Citizens League of Montgomery County, and the Coalition to Stop Gun Violence, and the Committee for Montgomery. He also is a former vice president of the Woodside Civic Association and executive vice chairman of the Silver Spring Citizens Advisory Board. Anderson holds undergraduate and law degrees from Georgetown University and a graduate degree in journalism from Columbia University.
Norman Dreyfuss
Vice Chair
Appointed to the Planning Board in February 2010, Norman Dreyfuss, is executive vice president of IDI MD, the developer of Leisure World and many other developments throughout the Washington, D.C., region. Dreyfuss, who has worked in all aspects of community development, is a champion of affordable housing and co-chairs the County's annual Affordable Housing Conference. Mr. Dreyfuss formerly served as Commissioner on the Montgomery County Housing Opportunities Commission. A resident of Potomac, Dreyfuss holds a J.D. from American University and a B.S. in Mechanical Engineering and a B.A. in Fine Arts from Rutgers University.
Gerald R. Cichy
Commissioner
Cichy worked at the Maryland Transit Administration/ Maryland Department of Transportation on projects such as the Corridor Cities Transitway, Purple Line light rail system and regional transit-oriented developments. From 1979 to 1984, he was director of transportation for Montgomery County and collaborated with federal, state and county agencies as well as developer and citizen groups to solve mutual problems. During his tenure, Cichy worked with Planning Department staff to coordinate implementation of master plan transportation projects.
Among Cichy's achievements is a patent for a bus rapid transit vehicle with doors directly opening to transit platforms. He is a recipient of the Federal Transit Administration's "Innovative Idea Award" for a 200-mile bus rapid transit system supplementing the Metrorail system in the Washington, DC region. In 2016, he graduated from the Senior Leadership Montgomery program. Cichy holds master degrees in both city and regional planning, and civil engineering from Catholic University. The 77 year-old Rockville resident has lived in Montgomery County for nearly 50 years.
Natali Fani-Gonzalez
Commissioner
Born in Venezuela, Fani-Gonzalez, 33, is the founder and principal of the Rockville-based public relations firm, The Matea Group. She is the first Latino and first millennial to serve on the five-member Planning Board, which reviews master plans and policies governing growth and development throughout Montgomery County. A human and civil rights activist and entrepreneur, Fani-Gonzalez has been recognized as a 2013 "Leading Women" honoree by The Daily Record for her numerous contributions to Maryland. She started her career as a lobbyist for CASA de Maryland, the largest Latino and immigrant organization in the state, and then joined the communications team of the Service Employee International Union Local 32BJ before starting her own public relations firm. Fani-Gonzalez graduated from Goucher College with a bachelor's degree in political science and international relations. She lives with her husband and their two children in Kensington.
Tina E. Patterson
Commissioner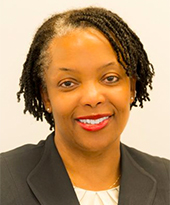 Tina Patterson is the owner of Jade Solutions, LLC, a three-year-old management consulting firm headquartered in Germantown, and is an experienced facilitator, handling dispute resolution for public agencies and private companies. Patterson is a member of the Montgomery County Human Rights Commission and has served on the board of trustees for the Black Rock Center for the Arts. She received a bachelor degree from Brown University and a graduate certificate in alternative dispute resolution from Southern Methodist University.
Additional resources
Mission of the Montgomery County Planning Board
Read the board's semi-annual reports
For more information, please call the Planning Board's Commissioners' Office, 301-495-4605.
Last Updated: March 15, 2019