El Tiempo Latino Selects Montgomery County Planning Board Member Natali Fani-González and Prince George's Parks and Recreational Department Staffers Nydia Ocasio and Lourdes Sulc as Most Influential People for Hispanic Community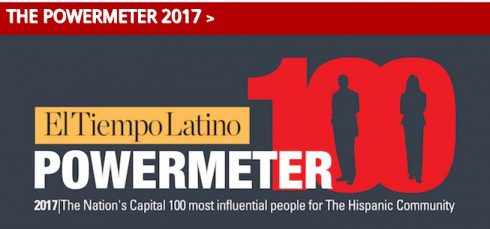 Judges for newspaper's Powermeter list of 100 honorees considered more than 400 nominations
Silver Spring, MD – The Montgomery County Planning Board, part of the Maryland-National Capital Park and Planning Commission (M-NCPPC), is pleased to announce that Montgomery County Planning Board member Natali Fani-González, as well as M-NCPPC staffers Nydia Ocasio and Lourdes Sulc of the Prince George's County Department of Parks and Recreation, have been named by the DC metro area's largest Spanish language newspaper, El Tiempo Latino, as three of the 100 most influential individuals for the DC Hispanic community.
"It is an honor to be selected for the Powermeter 100 list alongside a group of outstanding leaders working to empower the region's Latino community," said Fani-González. "Through my work on the Planning Board, I am dedicated to reaching diverse groups and encouraging them to be invested in planning the future of their communities. I'm especially proud to be joined by two talented women from our Commission, as it is a clear statement of what our agency is all about: we are all dedicated to creating strong, livable communities."
In addition to Natali Fani-González, the Powermeter honorees from Montgomery County include County Councilmember Nancy Navarro, Nestor Alvarenga from the Office of Community Partnerships and Renay Johnson, principal of Montgomery Blair High School.
Winners of the Powermeter 100 list will be featured in the newspaper's print and digital editions on June 23, 2017 with bilingual profiles of all honorees. The group was selected by seven judges, including the executive editor and publisher/CEO of El Tiempo Latino and a Washington Post reporter, from a pool of more than 400 nominations representing a diverse range of ethnicities, industries and interests.
A celebration recognizing the 100 honorees will be held on June 26, 2017 from 5:30 to 8 p.m. at the Washington Post Live Center (1301 K Street, NW, Washington, DC). For more information, consult the event web site.
About Natali Fani-González
Appointed to the Montgomery County Planning Board in October 2014, Natali Fani-González is the first Latina and first millennial to serve as a member of that board and as a commissioner of the Maryland-National Capital Park and Planning Commission.
Fani-González is the recipient of several prestigious awards, including the 2017 Washingtonian Magazine "40 Under 40" changemaker award, the 2015 Montgomery Women Rising Star Award, a 2014 Citation from the Maryland General Assembly for Outstanding Contributions to the State of Maryland, the 2013 Leading Women Award from The Daily Record as well as the 2017 Entrepreneur Award from the Latino Democratic Club of Montgomery County.
About Nydia I. Ocasio
Nydia I. Ocasio has 27 years of experience with the Department of Parks and Recreation in Prince George's County. She educates, provides resources and connects Latinos to recreation, health and wellness, cultural, educational and environmental programs. For the past 8 years, Ocasio has presented sessions on how to better reach and engage the Hispanic/Latino community at the National Recreation and Parks Association Congress. She currently serves as Co-Chair for the M-NCPPC annual Hispanic Festival and has organized numerous community events to serve the Latino population in Prince George's County. Nydia is an active member of several non-profit organizations that support education for people with disabilities and autism, youth mentorship and college readiness, help for the homeless, domestic violence and human trafficking.
About Lourdes Sulc
Lourdes Sulc has been serving the community of Langley Park for nine years, supervising different programs, classes and events. Her passion is to serve the families of low-income areas, educating and empowering new generations, and promoting local leaders. She developed an early interest in gender studies, leadership development and cultural interactions in her native country Bolivia, where she received a master degree in strategic planning and communications. Sulc's previous experiences in non-profit and government organizations, as well as serving as a consultant for the Inter-American Development Bank abroad, have been crucial to her success in her current role. She has also served as a committee chair in charge of the coordination of the successful Xtreme Teen program, "Mis Quince," for eight consecutive years. This program provides a cultural and educational experience to young Latinas, promoting cultural awareness, mentoring opportunities and self-development.
About The Montgomery County Planning Department
The Montgomery County Planning Department, part of The Maryland-National Capital Park and Planning Commission, aims to improve quality of life by conserving and enhancing the natural and built environment for current and future generations. The Planning Department creates great communities by developing master plans, reviewing applications for development and analyzing various types of information to help public officials plan for Montgomery County's future. The Department comprises 140 staff members and provides recommendations, information, analysis and services to the Montgomery County Planning Board, the County Council, the County Executive, other government agencies and the general public. Visit www.montgomeryplanning.org.
About Prince George's Department of Parks and Recreation
The Maryland-National Capital Park and Planning Commission is celebrating 90 years of excellence, since its founding in 1927. The Department of Parks and Recreation delivers an award-winning park system through progressive, innovative leadership and a commitment to the community and the environment in Prince George's County. For more on the Department of Parks and Recreation, visit www.pgparks.com and stay connected on Facebook, Twitter, Flickr, YouTube and Instagram. The M-NCPPC Department of Parks and Recreation encourages and supports the participation of individuals with disabilities in all programs and services.
About The Montgomery County Department of Parks and M-NCPPC
Montgomery Parks manages more than 36,000 acres of parkland, consisting of 418 parks. Montgomery Parks is a department of the Maryland-National Capital Park and Planning Commission (M-NCPPC), a bi-county agency established in 1927 to steward public land. The M-NCPPC has been nationally recognized for its high quality parks and recreation services and is regarded as a national model by other parks systems. www.montgomeryparks.org