Planning Board and Department Announce April 2017 Events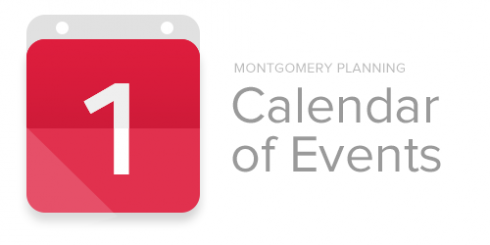 SILVER SPRING, MD – The Montgomery County Planning Board and Planning Department, part of The Maryland-National Capital Park and Planning Commission, are pleased to announce their April 2017 calendar of events. These meetings offer opportunities for the public to engage with the Planning Board and Planning Department staff. Review the full list of events and ongoing plans and projects below and go online to www.montgomeryplanning.org for more details.
Stay connected to us online by following Montgomery Planning Department news and information on Twitter: @montgomeryplans and like us on Facebook: www.facebook.com/montgomeryplanning.
Montgomery County Planning Department and Board Events in April 2017
April 4 – The 2017 Spring Semiannual Report on the recent work of the Parks and Planning Department will be presented to the Montgomery County Council. Review this report online to learn more.
April 6 – Planning Department staff will brief the Planning Board on the Short-Term Bicycle Parking Study and 2017 Local Area Transportation Review Guidelines. For more about the session, consult the Planning Board agenda.
April 20 –(Item 11) Public Hearing, Administrative Regulation for Chapter 50, Subdivision of Land. The proposed regulations will affect all future applicants. Purposes are summarized on page 1 of the Draft Staff Report (page 1 attached).
April 25 – Learn about new developments in Downtown Silver Spring at a presentation by Area 1 Chief Robert Kronenberg to the Silver Spring Citizen's Advisory Group at the Silver Spring Civic Building starting at 7 p.m.
April 27 – The Planning Board will update the Forest Conservation fees and penalty rates at its meeting. For more details, consult the Planning Board agenda.
April 27 – A work session for the White Flint 2 Sector Plan will be held at the Planning Board meeting. Consult the Planning Board agenda for more details.