Skip navigation
M-NCPPC's Wheaton Headquarters receives NAIOP's Best Sustainable Project award for its "environmentally responsible design and innovative building strategies"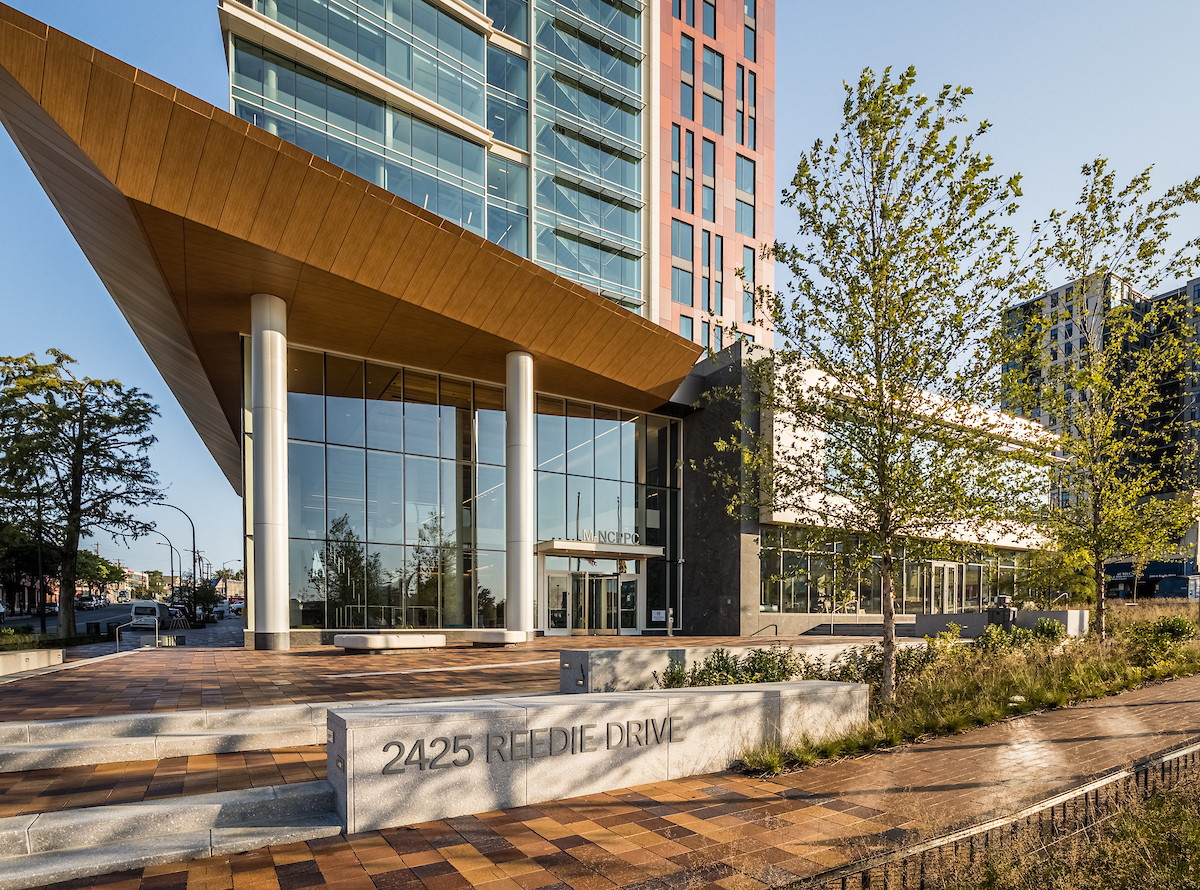 The commercial real estate development association's 19th annual Awards of Excellence honored outstanding achievement in commercial real estate development across DC and Maryland
WHEATON, MD – The Montgomery County Planning Department, part of The Maryland-National Capital Park and Planning Commission (N-NCPPC), is pleased to announce the M-NCPPC Wheaton Headquarters has won the Best Sustainable Project award at NAIOP's 2021 Awards of Excellence. These awards honored outstanding achievement in commercial real estate development across DC and Maryland. NAIOP, a commercial real estate development association, selected the Wheaton building for this award based on its "environmentally responsible design and innovative building strategies."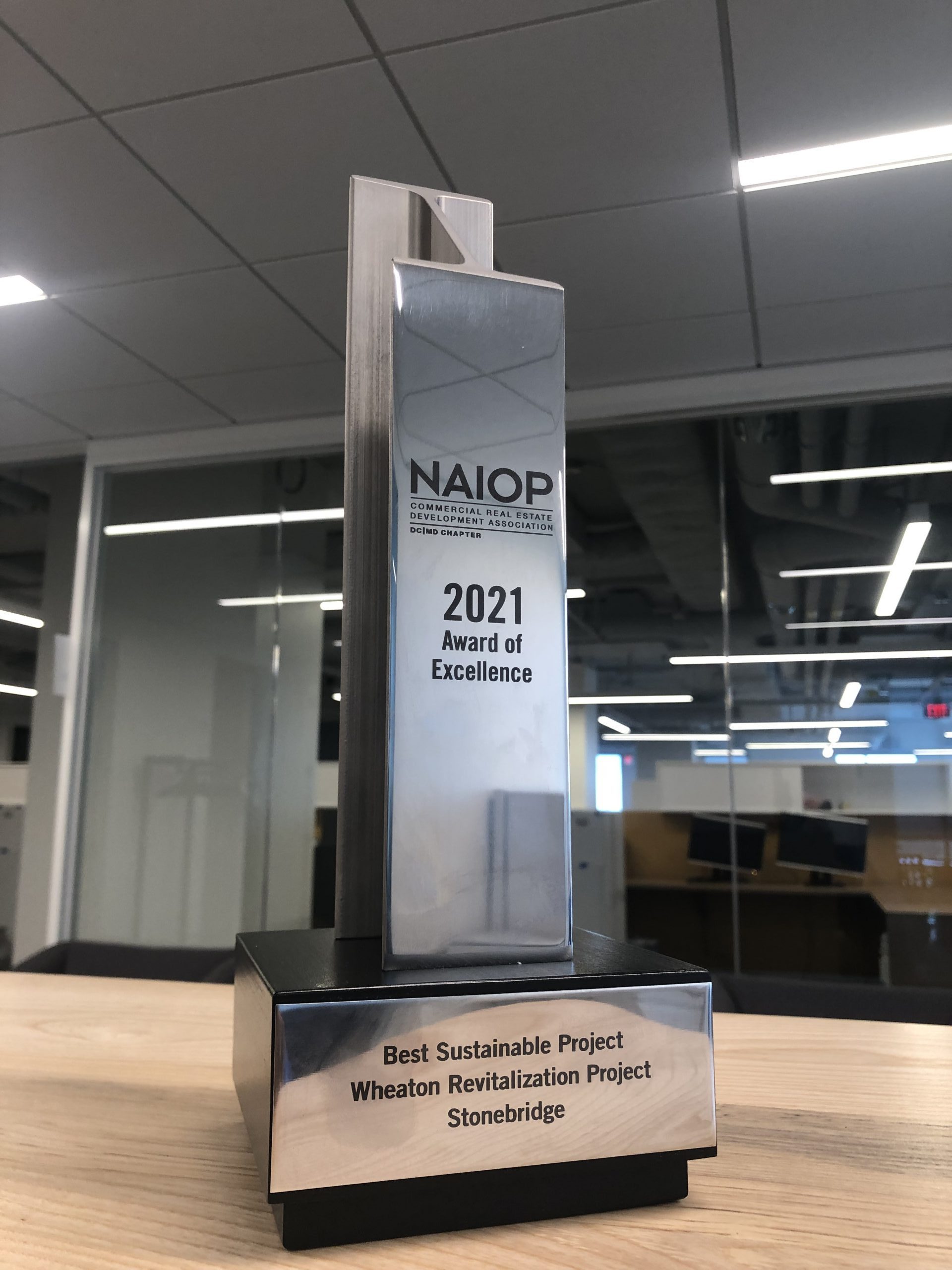 Also known as the Wheaton Revitalization Project, led by Montgomery County Department of Transportation (MCDOT) and Stonebridge developers, the development replaced the Wheaton Market Place parking lot in 2020 to provide a hub for local government offices with a space for community gatherings and activities. The 14-story building, owned by M-NCPPC, includes green features such as geothermal heating and cooling, photovoltaic solar panels, green roofs, high efficiency electrical and plumbing fixtures, and gray water reuse. Earlier this year, it became the first government-owned office building in Maryland to achieve  LEED Platinum status, the U.S. Green Building Council's highest environmental certification. It is also adjacent to the Wheaton Metrorail and bus transfer station, enabling staff and building guests to take transit and cut down on carbon emissions produced by single-occupancy cars.
View the M-NCPPC Wheaton Headquarters environmental features video
"The design of our headquarters applies the ideas that we use in evaluating development applications submitted by private developers and public agencies," said Montgomery Planning Board Chair Casey Anderson. "It has already helped make Wheaton a more economically vibrant, environmentally sustainable, and energized place, and we are proud that NAIOP has recognized the qualities that make it a great building and a great place to work."
Located at 2425 Reedie Drive adjacent to the Wheaton Metro Station, the M-NCPPC development includes a 14-story mixed-use building, a 200-seat auditorium for Montgomery County Planning Board meetings, a 400-space underground public parking garage, and the new .75-acre Marian Fryer town square. The building was designed by Gensler architects with the plaza designed by Oculus landscape architects. Montgomery County Department of Transportation and Stonebridge managed the construction which was built by Clark Construction Group.
"Great environmental design is the cornerstone of the Wheaton Revitalization Project, which is demonstrated even down to the parking lot it replaced that used to produce stormwater runoff," said Stonebridge Principal Jane G. Mahaffie. "We are proud to have partnered with Montgomery County to create a government building that will continue to set the standard for the county's public and private sectors."
Approximately 900 government employees will eventually work out of the office building to help revitalize the downtown Wheaton area. In addition to the Montgomery Planning and Montgomery Parks Departments headquarters, it is also home to six Montgomery County departments including:
Montgomery County Department of Permitting Services (MCDPS)
Montgomery County Department of Environmental Protection (MCDEP)
Mid-County Regional Services Center – Wheaton Urban District
Community Use of Public Facilities (CUPF)
Montgomery County Health and Human Services (HHS)
Montgomery County Department of Recreation (REC)
The development has also been recognized by the Urban Land Institute (ULI) and Engineering-News Record for its sustainable mixed-use design and for contributing to the revitalization of downtown Wheaton. In 2021, ULI named it one of 23 finalists for the Americas Awards for Excellence and the Engineering News-Record gave M-NCPPC an Award of Merit in its Government Public Building category.
About the Wheaton Headquarters
The mixed-use, LEED-Platinum M-NCPPC Headquarters building, located at 2425 Reedie Drive, with ground-floor retail and upper-floor offices frames both Triangle Lane and Grandview Avenue, a landscaped plaza and the Marian Fryer town square across Reedie Drive. The M-NCPPC Wheaton Headquarters is the first government-owned office building to achieve LEED Platinum status in Maryland. The large, entrance lobby is framed in glass, illuminates the new plaza at night and is inviting and symbolizes the transparency and civic mindedness of government. The two-story lobby space will be open to the public once COVID-19 restrictions are lifted and used for displays, celebrations, and other events. The open lobby includes an information desk and publicly accessible grand staircase leading to the Planning Board auditorium on the second floor. A living green wall extends on one side of the space to represent the building's environmentally sensitive design. The building is currently closed to the public with staff on a maximum telework schedule due to the COVID-19 crisis. Learn more about the M-NCPPC Wheaton Headquarters building.