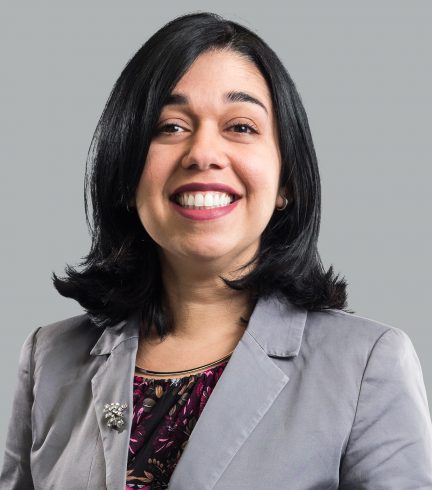 First Latinx and millennial to become Vice Chair, Fani-González will assume leadership role during absence of Planning Board Chair
Silver Spring, MD – Montgomery County Planning Board Commissioner Natali Fani-González was appointed the Vice Chair of the Planning Board on Thursday, September 5, 2019. Planning Board Chair Casey Anderson made the announcement at the first meeting after the Board's August recess when he also welcomed Partap Verma as the newest Board member.
"Natali has served the longest of the other Board members who joined after my appointment," says Planning Board Chair Casey Anderson. "She has done a tremendous job over the past five years in engaging our communities. Her contributions are helping us to advance in a positive direction as the county continues to grow more populous and diverse and we face new challenges in the future."
Fani-Gonzalez has served on the five-member Board since 2014 and was appointed by the County Council to a second term in May 2018. Over the past several years, she has won many awards for her public service, which includes engaging residents of all backgrounds to be active participants in planning and land use decisions.
As Vice Chair of the Planning Board, Fani-Gonzalez will assume the leadership role of the Chair in his absence, overseeing Board meetings and regulatory decisions.
"I am delighted to continue my service on the Planning Board as Vice Chair," says Fani-González. "We still have much work to do to ensure equity and environmental justice in Montgomery County and I feel honored to continue to serve the county. This is a crucial time in determining our future as we update the General Plan through Thrive Montgomery 2050 and ask the public to envision how we can improve our communities."
Since joining the Montgomery County Planning Board, Natali Fani-González has made significant contributions to the Board, Planning Department and Department of Parks. She has been involved with several planning efforts, including the Bethesda Downtown Sector Plan, 2016 Subdivision Staging Policy, Montgomery Village Master Plan, Greater Lyttonsville Sector Plan, Veirs Mills Corridor Master Plan and Bicycle Master Plan, as she worked with staff to engage diverse communities. In April 2018, she participated in the national conference of the American Planning Association on a panel about public outreach for hard-to-reach audiences.
About Natali Fani-González
Natali Fani-González was first appointed as a Commissioner of The Maryland-National Capital Park and Planning Commission (M-NCPPC) and a member of the Montgomery County Planning Board in 2014. Natali is the first Latinx and first millennial to serve on the five-member Board, which reviews master plans and policies governing growth and development throughout Montgomery County.
Born in Venezuela, Natali Fani-González is the founder and principal of the Rockville-based Matea Group, LLC, a dynamic public relations and translations firm that has worked on national and international issues. A human and civil rights activist and entrepreneur, she started her career as a lobbyist for CASA de Maryland, the largest Latino and immigrant organization in the state, and then joined the communications team of the Service Employee International Union Local 32BJ before starting her own public relations firm.
For more than a decade, Natali has completed extensive advocacy and communications projects for a variety of public and private entities, including the State of Maryland Department of Health and Mental Hygiene, Reform Immigration for America, Amnesty International, Capital Area Food Network, MomsRising, CASA de Maryland, Virginia Consumer Voices for Healthcare, Iron Workers International Union and Service Employees International Union. She served as vice-chair of the transition team for Prince George's County Executive Rushern Baker III.
Natali is the recipient of several prestigious awards, including the 2015 Montgomery Women Rising Star Award, 2014 Citation of the Maryland General Assembly for Outstanding Contributions to the State of Maryland, 2013 Leading Women Award by The Daily Record and the Poder Con Ganas Award from the Latino Democratic Club of Montgomery County.
In 2017, she was featured in Washingtonian magazine's 40 Under 40 list of influential change-makers and named by the DC metro area's largest Spanish language newspaper, El Tiempo Latino, as one of the 100 most influential individuals in the DC Hispanic community.
Fani-González graduated from Goucher College with bachelor degrees in political science and international relations, and holds a National Security Certificate from Georgetown University. Natali lives with husband Angel Gonzalez, an electrical engineer and a former U.S. Marine, and their two children in Wheaton, MD.