Planning Department and Planning Board Announce Calendar of December 2017 Events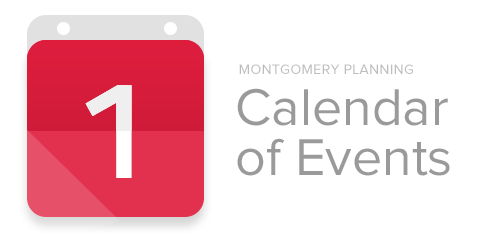 The Planning Department and Planning Board Announce their Calendar of December 2017 Events
Planning Department will launch its annual Winter Speaker Series and brief the Planning Board about the draft Bicycle Master Plan
SILVER SPRING, MD – The Montgomery County Planning Department, part of The Maryland-National Capital Park and Planning Commission, is pleased to announce its December 2017 calendar of events. These events offer opportunities for the Planning Department staff and Planning Board members to discuss projects, policies and engage with the public. Review the full list of events and ongoing plans and projects below, and go online to www.montgomeryplanning.org for more details.
Stay connected to us online by following Montgomery Planning Department news and information on Twitter: @montgomeryplans and like us on Facebook: www.facebook.com/montgomeryplanning.
Montgomery County Planning Department and Board Events in December 2017
December 6 – The public is invited to attend the first session of the Planning Department's annual Winter Speaker Series. This year's talks will focus on the economic future of the suburbs and will begin with a presentation by Adam Ducker of RCLCO on infill housing. The free session will be held in the Department's auditorium (8787 Georgia Avenue, Silver Spring, MD) from 6 to 7:30 p.m. RSVPs are encouraged.
December 7 – The Planning Board will be briefed on the Bicycle Master Plan Working Draft, among other items at this meeting. For details, consult the Planning Board agenda, which is posted online 10 days before the session.
December 13– The Planning Department will host its sixth public meeting for the Veirs Mill Corridor Master Plan from 7 to 9 p.m. at Albert Einstein High School (11135 Newport Mill Road, Kensington, MD). Planners will present the preliminary plan recommendations for land use, transportation, environment, community facilities and other topics. RSVP for the Veirs Mill Community Meeting.
December 14 – The Planning Board will meet to discuss plans and projects, including the sketch plan for the new Marriott International headquarters in Bethesda. For details, consult the Planning Board agenda, which is posted online 10 days before the session.
December 15– The deadline is 5 p.m. for submitting presentation proposals online for the conference Makeover Montgomery 4: Healthy, Smart, Inclusive and Competitive Communities, co-sponsored by the Planning Department and the University of Maryland's National Center for Smart Growth. The conference will be held from May 9 through May 11, 2018 in College Park and Silver Spring, MD to discuss cutting-edge ideas for transforming the suburbs. Presentations should focus on innovative planning and policy tools, and strategies that can help transform our suburbs into exciting, attractive and sustainable communities. Submit a presentation to the MM4 Conference.
December 18 – A public meeting will be held from 6 to 8 p.m. on the Forest Glen/Montgomery Hills Sector Plan at the Planning Department (8787 Georgia Avenue, Silver Spring). Planners will present the results of work completed to date for transportation and economic studies of the area.
December 28 – The Planning Board will not meet on December 28 or January 4 in observance of the holiday season. The Board will resume meetings starting January 11.